Colin Jarvis Photography
Landscape and Architectural Photography Workshops
Colin Jarvis Photography
Landscape and Architectural Photography Workshops
Colin Jarvis Photography
Landscape and Architectural Photography Workshops
Colin Jarvis Photography
Landscape and Architectural Photography Workshops
I met Colin Jarvis a couple of years ago when he'd presented at a camera club evening. I was blown away by the images shown that night. At that time I had started a course in photography and didn't know yet about ND and Grad filters, long exposure times, etc. Landscape photography has always been the genre I go back to time and time again. Today with a diploma in photography under my belt and joined more progressive camera club, I am at the next level of my journey in photography, or simply "I want to take great photos". Get in touch with Colin whom I believe most of you may know. He has some workshops with the RPS and also his own for this year and next. I recommend Colin for many reasons. Top of the list is that Colin is an excellent photographer himself. His teaching style works for me. He doesn't crowd your creativity and provides feedback when requested. Locations are varied and interesting. Post-processing evenings are informative. Highly skilful and knowledgeable not only about photography but also different camera makes and models. All of Colin's workshop are very popular.
I just want to thank you for my second 1-2-1. You had great patience with me and had a good knowledge of where to shoot for the best results. I always come away with great images and can't wait to go on my third 1-2-1 which is book for later in April. I am now looking into buying the Kase filters as you recommended. Thoroughly enjoyed my time out with you and would highly recommend your tuition to everyone.
My camera filter system needed upgrading primarily because it was producing soft images and also a colour cast. Based on Colin's recommendation, I decided to purchase the Kase system. To say that I am delighted with the Kase filters is an understatement! I carried out exhaustive tests using my 24-70 and 70-200 lenses. I found the Kase filters produced a sharp image without any noticeable colour cast. There was no vignetting and the camera's auto focus and exposure metering worked well through the filters even when they were stacked. Colin, thank you for recommending the Kase system.
"I've just returned to Canada and wanted to say thanks again for the fantastic workshop in Wales. The instruction was top-notch, the accommodations were lovely and, as always, your expertise, professionalism and patience contributed to an incredible experience. My confidence increased significantly over the course of the week and I can't wait to put my new skills to good use on this side of the pond. I'm already looking forward to next year's Northumberland workshop!"
"Colin, you came very highly recommended so had something to live up to! And live up to it you certainly did. We both thoroughly enjoyed and benefited from our North Wales Workshop - a new area for us, but it was evident that you had good local knowledge which enabled us to get on with our photography straight away. We learnt a tremendous amount - benefitting from your teaching style which enables personal development and is never intrusive or patronising...in fact one always felt relaxed asking questions and seeking advice. We genuinely had great fun and enjoyed the whole relaxed yet focussed atmosphere. Thank you so much, and we really hope to join you on another workshop later this year."
"Thank you Colin for a brilliant Workshop held in beautiful Dorset. Everything was great ! You went out of your way to ensure we had the best locations for amazing photography opportunities. You really do go the extra mile in providing one to one tuition and I very much appreciated your patience and support helping me in the post processing procedure. I gained a great deal from this and was thrilled with the results. On seeing my images posted on FB my friends were full of praise for such beautiful images which you had helped me to produce. We were blessed with wonderful weather which although not perfect for photography " No clouds !!" it was just wonderful to enjoy the beauty of the English Coastline without hoards of tourists. I hope to join you again on another Workshop in the future and thank you again for such a great time with a lovely group of like minded photographers"
A huge thanks for a great week, it was the first time I had done a residential with a professional photographer & I really couldn't have asked for or expected more. What went well, for me, was your organisation, it was well planned & I feel you provided us with great photographic opportunities which was down to your planning & flexibility. You gave choices & responded to individuals as needed. I felt you were available for photographic advice & guidance or happy for us to do our own thing. I felt you delivered value for money & you provided the right amount of activity for me. I enjoyed staying in a house & the flexibility it gave us. I have racked my brains, but I couldn't think of anything I could suggest that you could have improved. I am keen to do further residential workshops with you and am hoping I can book onto a Wales trip next September!
I've just returned from my extended trip to the Skye workshop, and I wanted to drop you a very quick note to thank you for a great learning experience and enjoyable week despite the weather! I really enjoyed meeting and working with the othjers, and great enjoyable memories of waterfalls flowing backwards, sunrise over The Quiraing, and standing almost knee deep in a mountain stream (fairy pools) while trying to compose shots, watching a sunken boat rise from a loch……. To mention a few, will remain with me for a long time. I thought that your attention to detail both from the perspective of photography and generally looking after us was excellent, and I will write up a more detailed note, together with a few of my images over the next couple of days when I've had a chance to clear the decks. I learned a lot, took a lot of images, made a lot of mistakes and thoroughly enjoyed the trip, I am sure that I will be booking a further workshop with you and it would be great to maintain contact. As I mentioned I will get back to you with more information during the next few days, Thanks for making the trip enjoyable and worthwhile for me, I very much appreciate your effort and work in pulling all this together.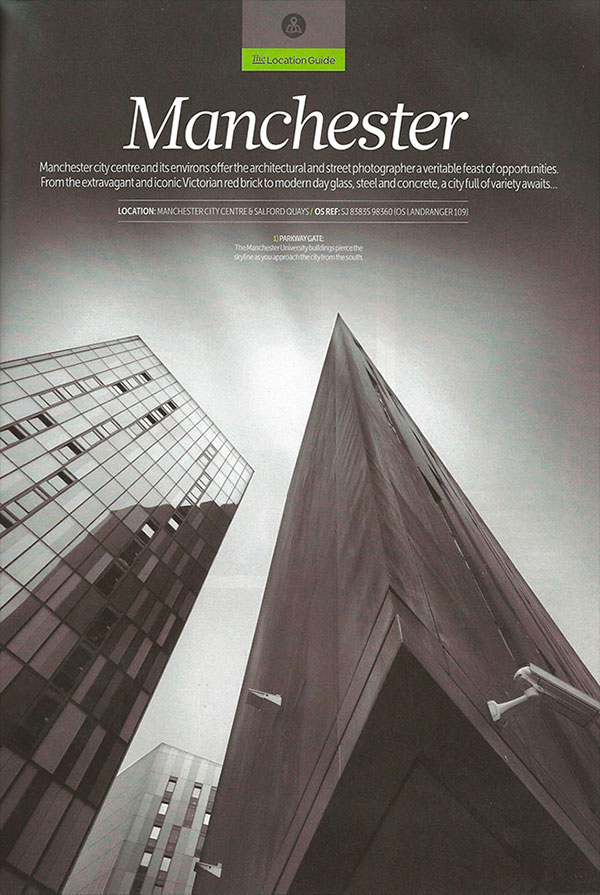 Digital SLR Photography
Digital SLR Photography magazine ran a location guide I produced for them on Manchester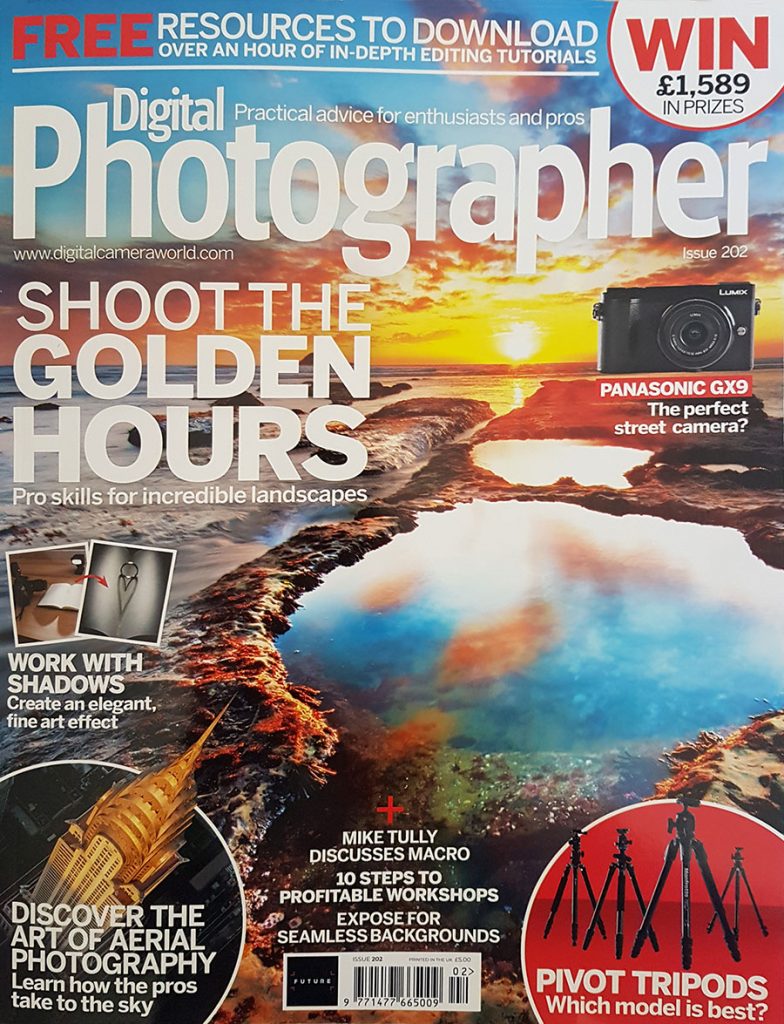 Digital Photography Magazine
Pleased to have a seven page spread about running workshops in Digital Photography Magazine July 2018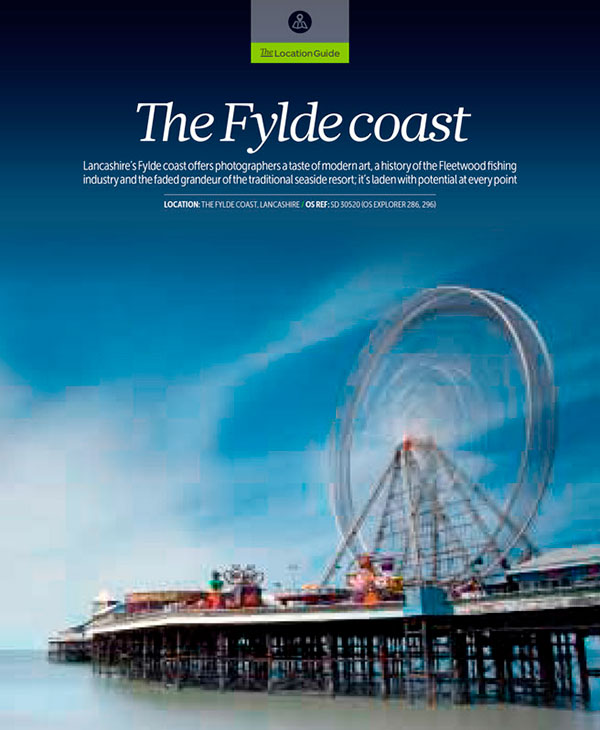 Digital SLR Photography
I was asked by Digital SLR Photography magazine to produce a location guide to the Fylde Coast. This was a six page feature showing my images, the locations I used and the techniques. This is a location I regularly run workshops to, have a look at my workshop list to what's available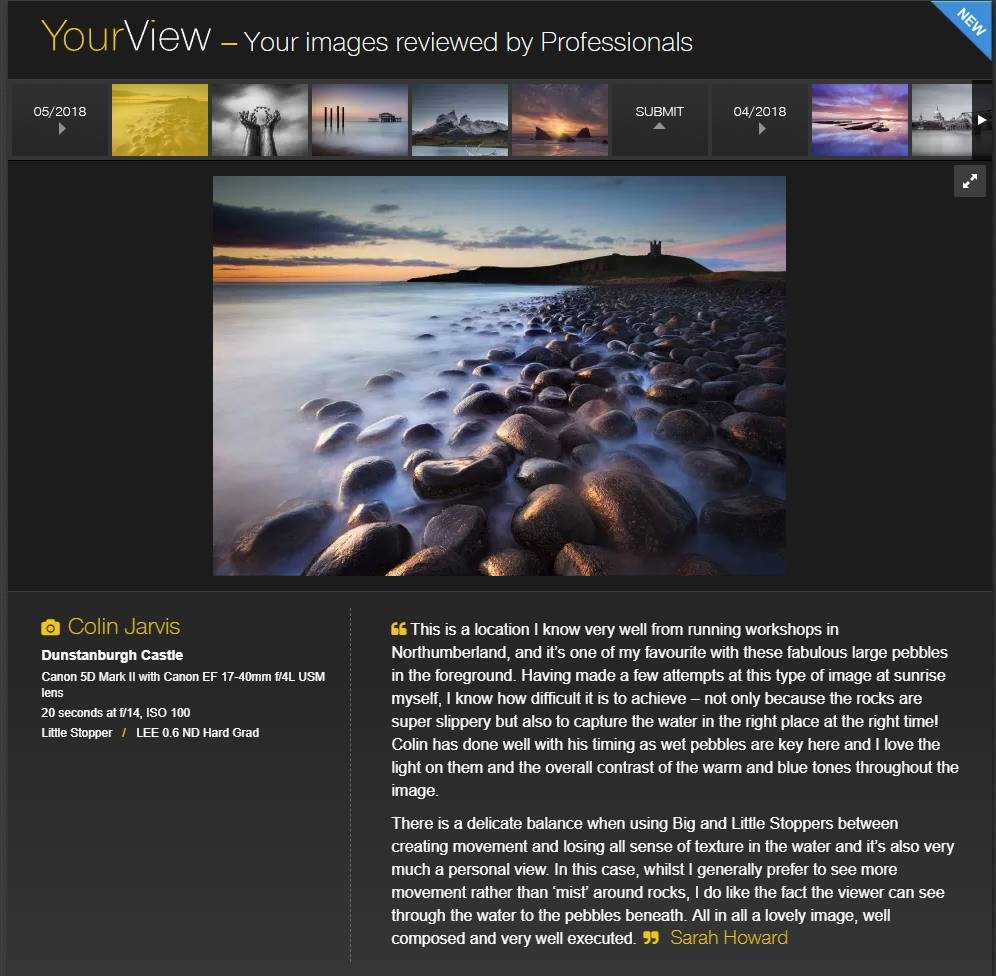 Lee Filters - YourView
Pleased to have an image selected and reviewed by Sarah Howard of ImageSeen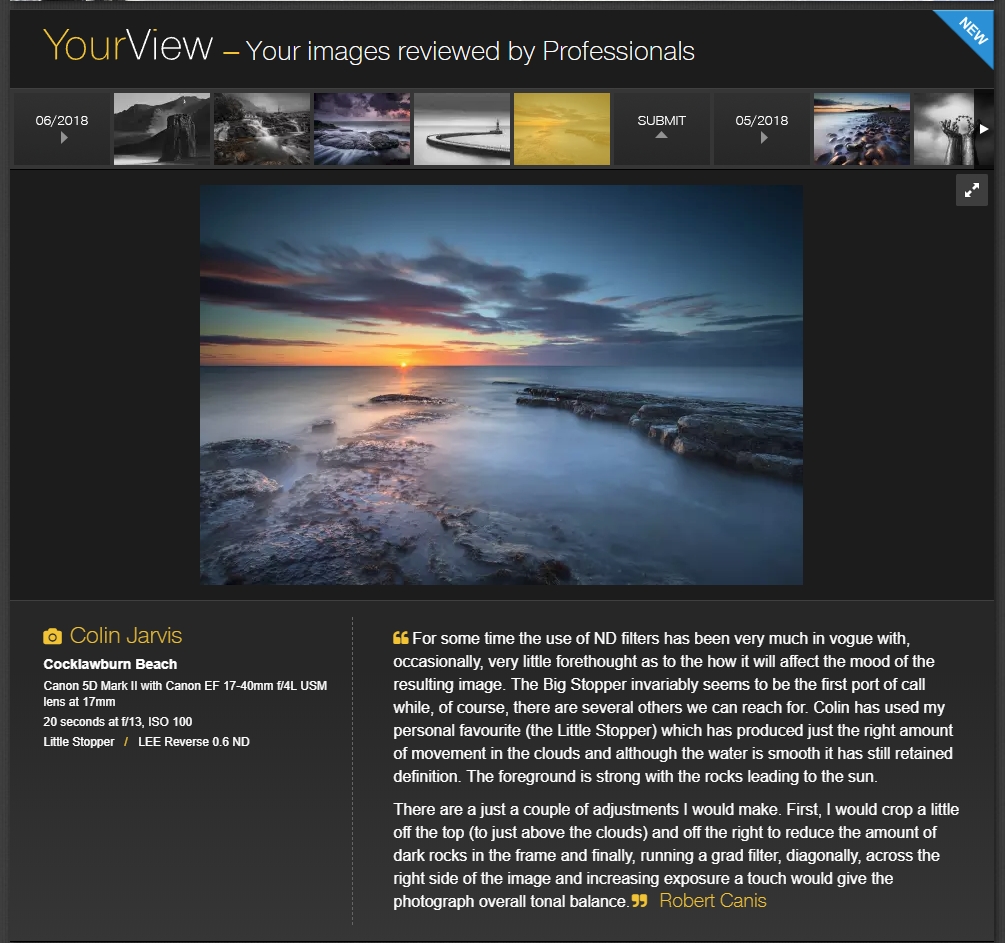 Lee Filters - YourView
leased to have an image selected and reviewed by Robert Canis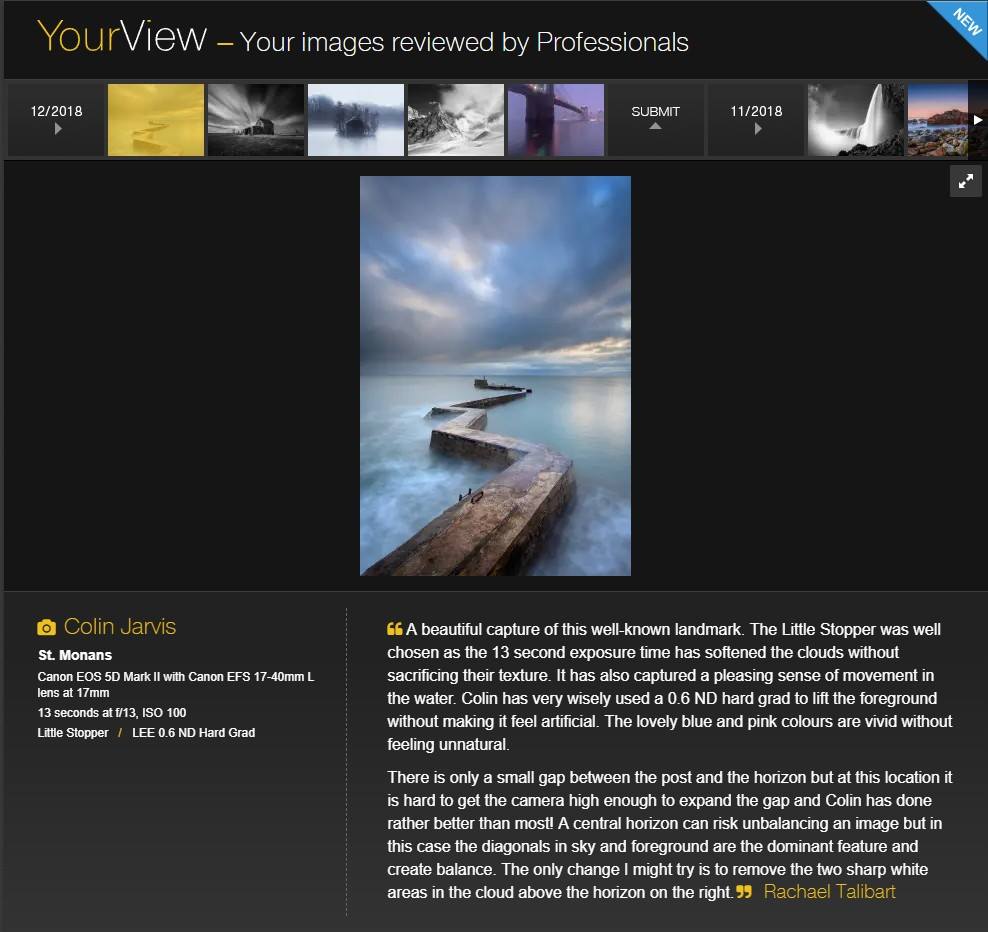 Lee Filters - YourView
Pleased to have an image selected and reviewed by Rachael Talibart